How to Make Easy DIY Umbrella Table Flower Planter
INSIDE: How to make an easy DIY umbrella table flower planter. Turn plastic bowl planter into flower pot around patio table umbrella.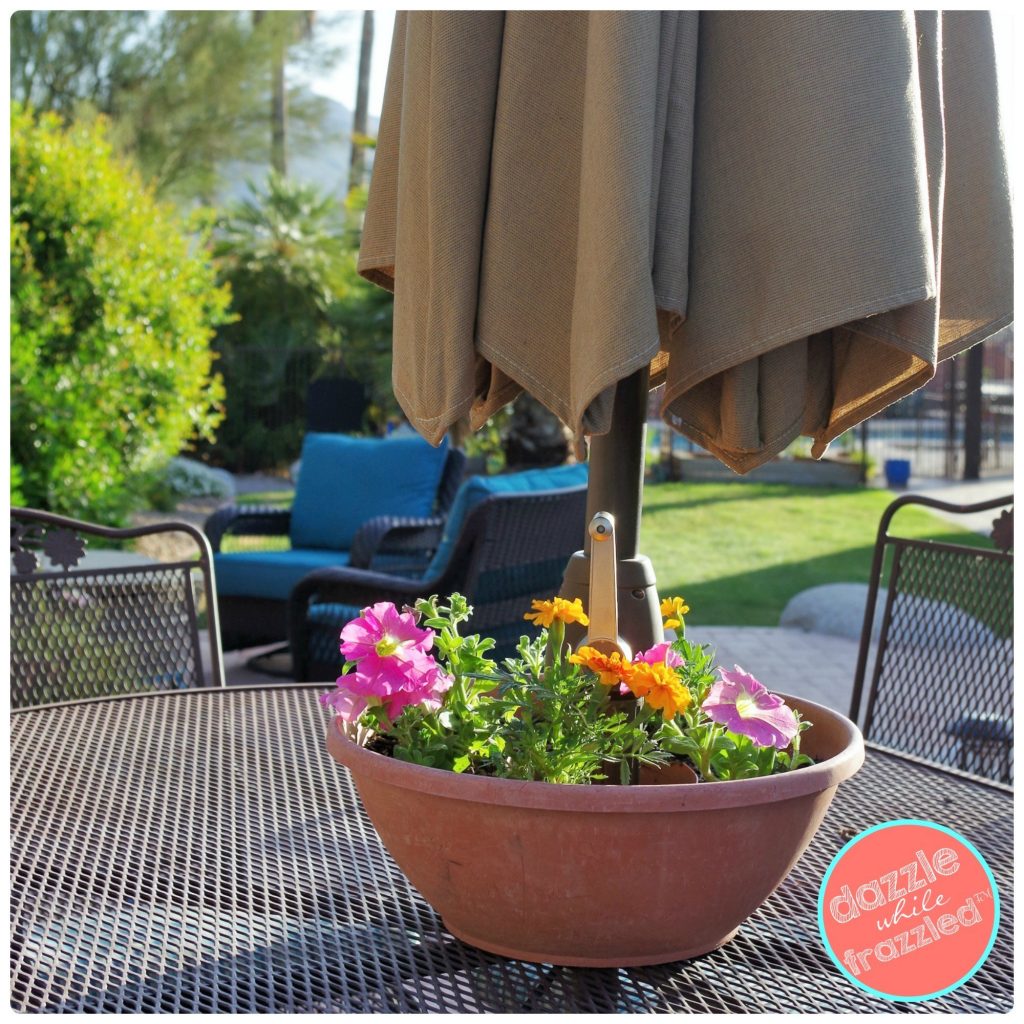 When was the last time you had a family outing to the garden center? We had such fun-filled family time this past weekend. When you go anywhere with three young kids, small tasks – like buying flowers and a giant bag of potting soil – quickly becomes chaos.
The adventure starts with the search through a parking lot for one of those cumbersome car-themed shopping carts. You know, the kind that is nearly impossible to steer. You then have the fighting over who will sit in the cart proceeded by who is being touched and squashed because you've got three kids smashed in a two-seater. And after all that, one by one they have jumped out of the cart and you find yourself ditching the carnival cart in the lighting aisle. And all you came in for were some pretty spring flowers!
My nerves are now back in tact and I have a strong desire to get these plants into soil before I am forced back to the garden center for Round Two. Here's what I did with those flowers purchased in a Sunday afternoon of family togetherness!
HOW TO MAKE EASY DIY UMBRELLA TABLE FLOWER PLANTER
We all have those patio tables with the practical but aesthetically annoying hole in the center. How do you make a table centerpiece when you're working around an obtrusive umbrella? You pull out the one power tool you know you can handle and you make your own flower planter!
Supplies:
– Plastic terra cotta flower pot garden bowl
– Plastic terra cotta 6″ flower pot
– Power drill
– Scissors (I like the brand "Fiskars" for their strength)
– Pencil
– Potting soil + plants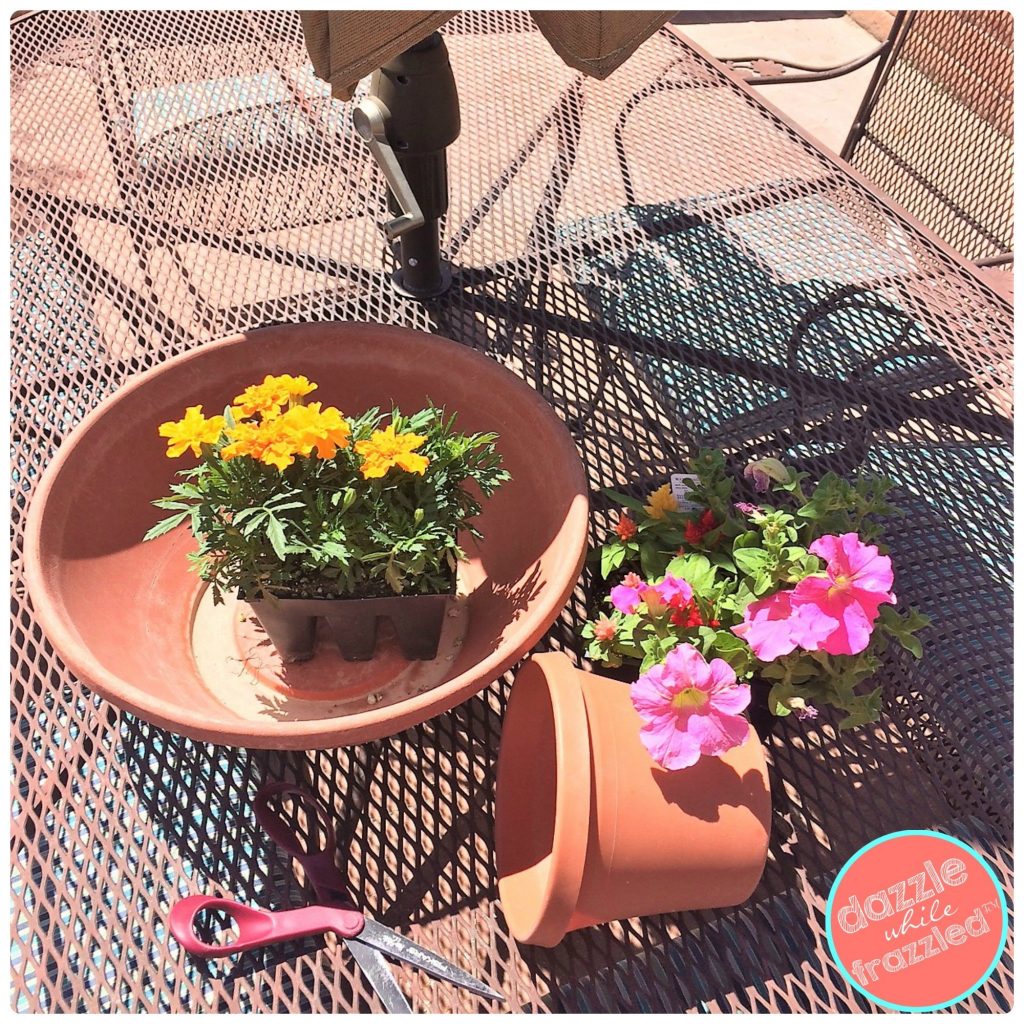 HOW TO PLANT AROUND PATIO UMBRELLA TABLE
Flip the smaller plastic flower over. Use a power drill to make a hole in the bottom of the pot. You know you've become a DIY-er when you receive your own personal small power drill for your 40th birthday! Must admit, it's cute!!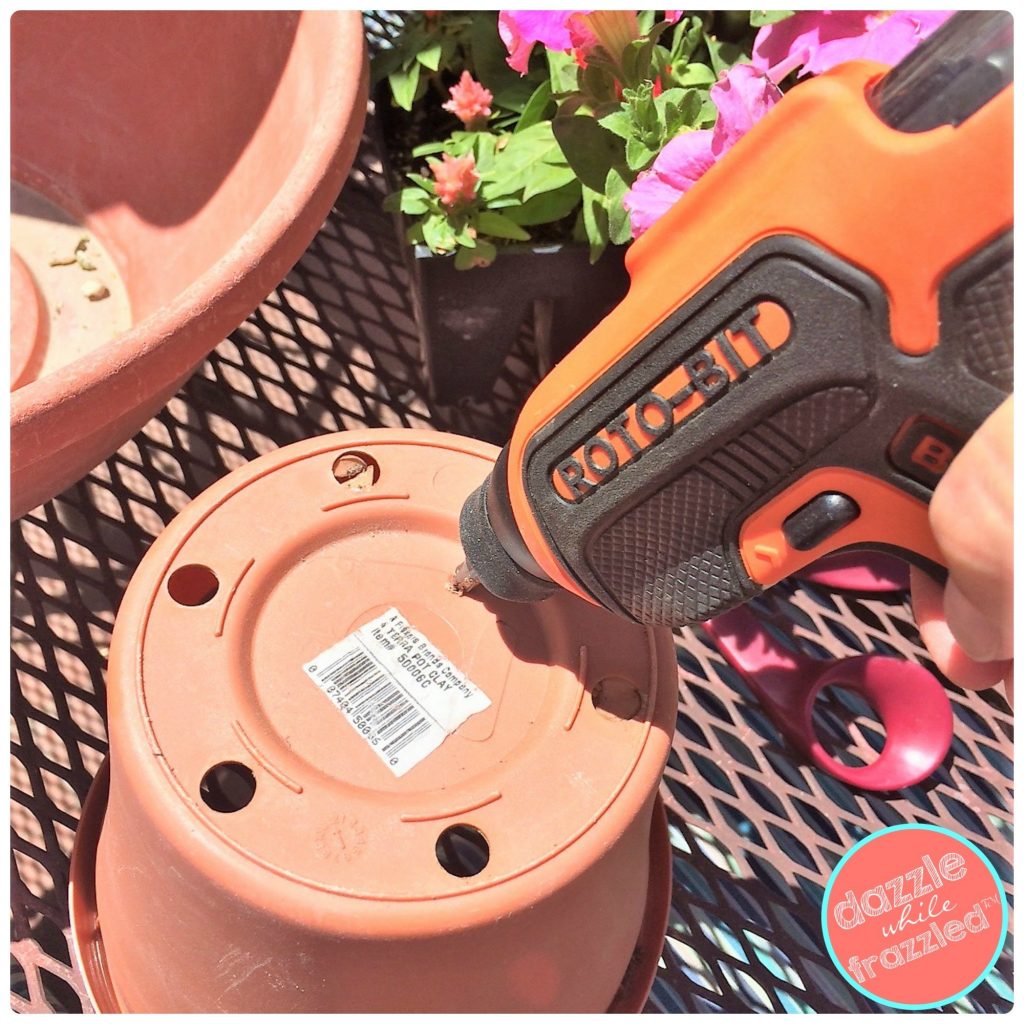 With the hole made from the (cutey) drill, use strong scissors (I like the Fiskars brand) to cut a hole the size of the umbrella hole in the bottom of the flower pot.
Place the smaller pot inside the garden bowl and trace a similar sized circle. Repeat the above steps to make a hole in the center of the garden bowl.
Nestle the two planters together so the holes line up. Position the pots over the umbrella hole in the patio table and insert the umbrella.
HOW TO PLANT AROUND PATIO UMBRELLA TABLE
Fill the garden bowl with potting soil and flowering springtime plants.
Now all I need to do is to remember to water them. Womp womp!!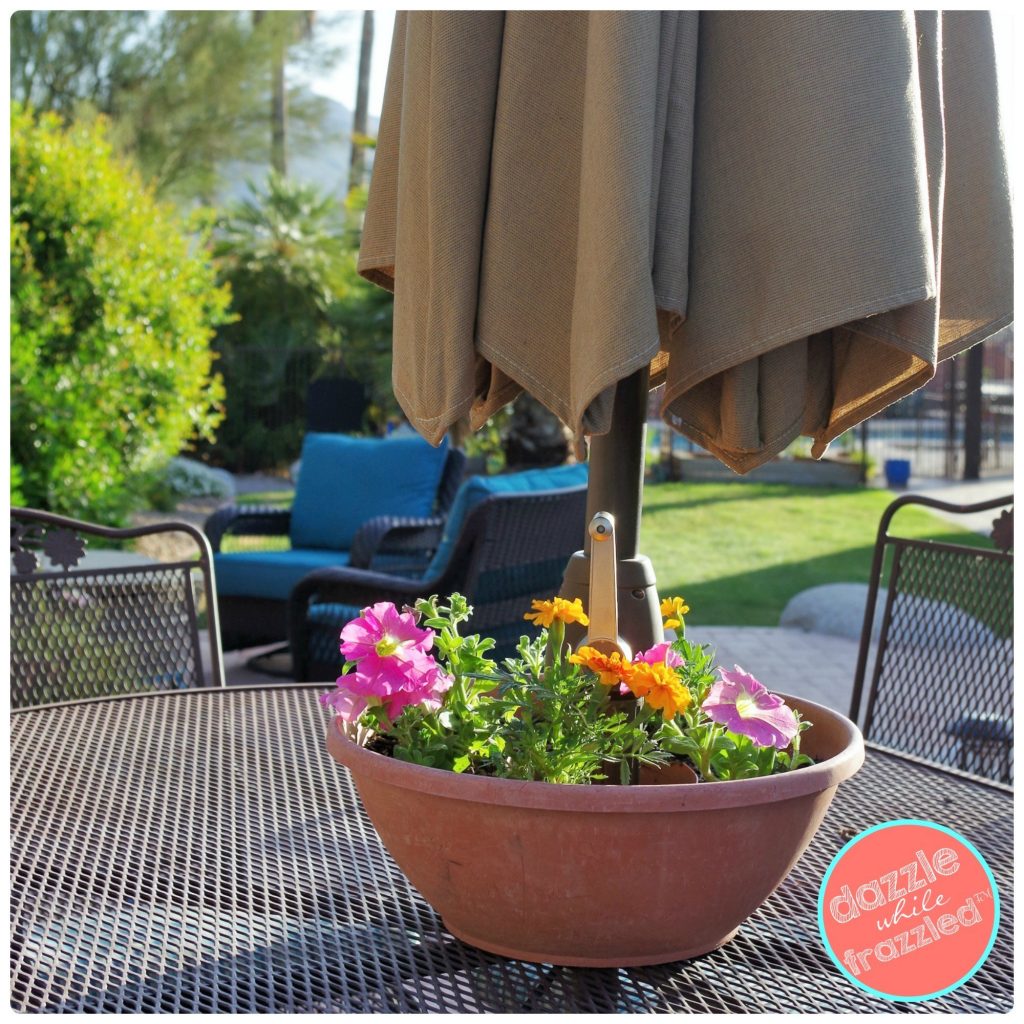 Or, you can play Hasbro Guess Who Classic Game, which is my favorite game to pass time!