How to Make Hanging Planter For $10 In Supplies
INSIDE: Use metal strapping tape to make easy and affordable hanging orb shape planter. DIY planter for hanging on patio or tree.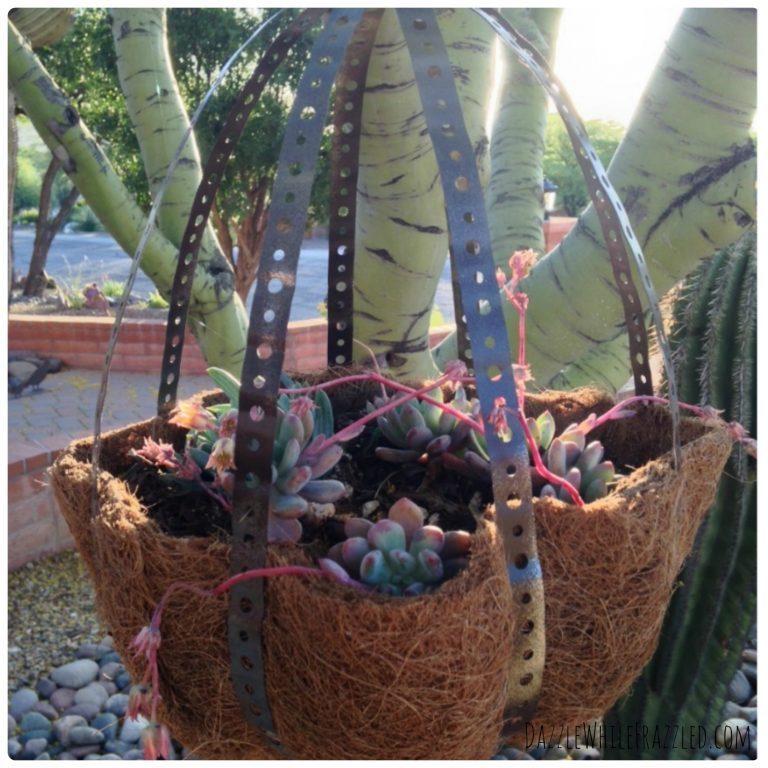 On vacation, in a picturesque coastal town, was when I first saw a planter hanging from a tree. Totally loved the look and Hello! inspiration. I came home determined to replicate the look.
A year later (because why should a DIY project get done quickly?!), I finally came around to making my DIY hanging tree planter.
Inspired by the modern and industrial designs I was seeing in catalogs, I created a hanging planter for $10 in hardware supplies …minus the designer sticker shock!
HOW TO MAKE HANGING PLANTER FOR $10 IN SUPPLIES
Hanging Orb Planter Supplies
– 3/4″ galvanized steel hanging tape
– 3/4″ steel screw and nut (I used two sets)
– wire snips
– spray paint (optional)
– hanging planter material: coconut liner, soil and plants
– metal chain link or bungee cord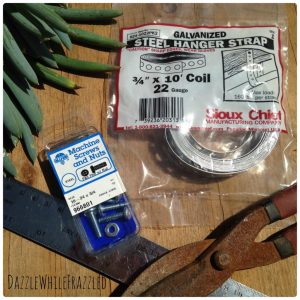 HOW TO MAKE HANGING PLANTER FOR A TREE
Other than having to make a second trip to the hardware store to buy more materials, and having to pause to tend to a metal-induced scratch, this project came together very quickly!
How To #1:
Determine how big you want your orb to be. Cut metal accordingly.
I cut four pieces that will be shaped oval-like, using two sets of 10′ of galvanized metal with material leftover.
How To #2:
I made the first oval shape, overlapping the ends and inserted the screw.
I then made the second oval shape, starting and stopping where the screw was. Repeat for each piece.
In a 'nutshell', I used one screw and nut to attach all four strips of metal at the bottom of the orb.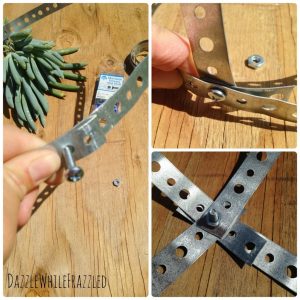 How To #3:
With the planter part made, I then took a smaller metal strip, formed a circle and placed it atop the orb.
To attach this section to the orb planter, I centered it atop the four metal strips and used a second screw and nut to secure it.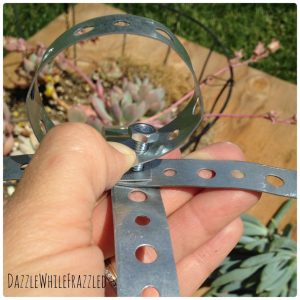 How To #4:
Depending on what color you prefer, I gave my planter a spray of brown paint to mimic the look of industrial, rusted metal.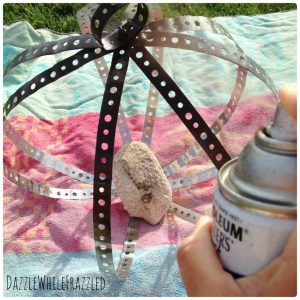 How To #5:
Once dry, insert a coconut liner, soil and plants.
Hang via metal chain link or small bungee cord attached to the small metal circle atop the orb.
I'm loving this hanging orb planter. I may just make some more!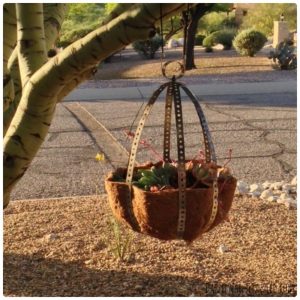 What gardening DIY have you been inspired to create?
Use this same metal strapping to make DIY hanging solar lights to hang from trees or under porch patio!